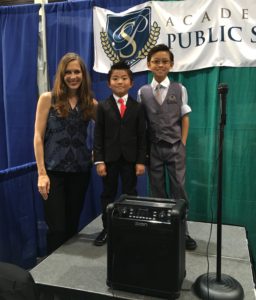 At the Academy for Public Speaking, we love helping children gain confidence and effective communication skills.
We also love teaching children their voices are powerful tools they can use to make a positive difference in the world – in their own lives, in the lives of people they love, and in the lives of people they haven't even met.
The power of public speaking is a positive force that will help your child live a happier, more meaningful, and more rewarding life.
Finding the courage and desire to use my voice to express myself wasn't easy, but it's the most important journey I've ever undertaken.
Through finding my voice and overcoming my fear of public speaking, I discovered an unexpected gift. My gift is to help children change their lives through the power of public speaking.
Since I founded the Academy for Public Speaking in 2010, we have helped over 1,400 students gain confidence, public speaking, and leadership skills.
Through persuasive charity speech contests held during our level one public speaking courses and after school enrichment classes, Academy for Public Speaking graduates have spoken on behalf of 75 different charities. The Academy for Public Speaking has donated over $3,000 to the charities the children who won the contests chose to represent.
The greatest gifts we give children are confidence, encouragement, and empowerment. We look forward to teaching more children their voices are powerful tools they can use to make a positive difference in our world. Happy Valentine's Day! With Love, Kathleen