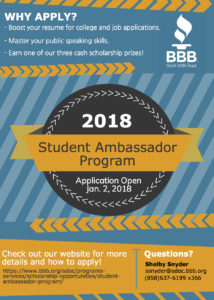 The Better Business Bureau offers an interesting public speaking based scholarship program for high school juniors and seniors in San Diego.
The Better Business Bureau Ambassador Scholarship Program promotes public speaking and is based on peer-to-peer education. Students first apply to participate in the program and then attend a training session at one of the Better Business Bureau office locations.
After attending a training session, students schedule presentations to share the information with peers. The topics are identity theft, cyber scams, and financial safety.
The program runs from March-May 2018. Students must complete at least one presentation a month to receive the completion certificate and be deemed an official Better Business Bureau Student Ambassador…great for college resumes!
The Better Business Bureau will award scholarships of $2,500, $1,500 and $1,000 to the three students who present to the largest number of peers. The training session not only allows students to master the information before they present, but also provides tips on how to reach large audiences.
The deadline to apply was February 16, 2018,  but it has been extended until February 26, 2018. For more details and to apply, please use this link.
For any questions, please contact Program Coordinator – Shelby Snyder at ssnyder@sdoc.bbb.org OR (858) 637-6199 ext. 366