"Both my daughters attend the Academy for Public Speaking's classes and they agree that they are always a joy to attend and learn from. Mrs. Kathleen Petrone is a positive and supportive teacher towards her students and constantly gives them helpful suggestions for improvement.
My daughters used to be very shy and introverted, and taking public speaking classes has allowed them to improve and become much more comfortable with public speaking.
This semester, taking online public speaking classes has allowed them to meet so many interesting and unique people, and they always end class with a big smile on their faces and a wonderful attitude. Highly recommend the Academy for Public Speaking!"   Meiling Yueh
Are online courses effective? Read reviews for more parent & student perspectives.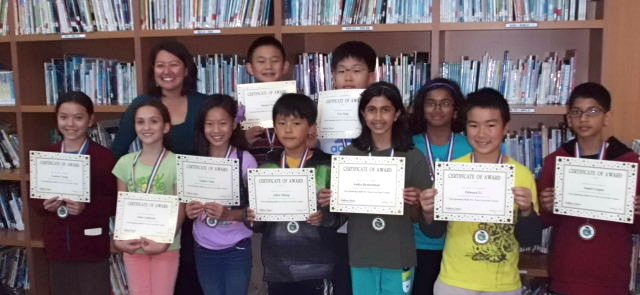 "I would like to express my deepest appreciation for what you do. You give one of the best gifts in our kids' lives! To be able to speak in front of many people with confidence, pride, strong leadership, and a positive attitude. What an inspiration you give to our children – to be able to express their thoughts and feelings without any fear.
I would like to thank the Academy for that! My son, who was 11 years old, did not care about public speaking as most of the kids his age. After his first class, his eyes lit up and he said to me, "Mommy, I love it!"  There is nothing else I can add to that statement.
I strongly recommend any parent to consider the Academy for Public Speaking classes. Kathleen's program brings miracles to our kids' lives. She did for my son. Thank you, Kathleen!" With deepest gratitude, Natalya Abramovich
"We love this class so much! It has really had a great impact on our son. The speaking class changed his life. It has helped him become a treasurer at school. All I can say is this is an amazing class for our son's future. :-)"   Ahmed & Soha Ragab
"This class is awesome! Our teacher Jessica is very kind and loving! You should try it." Aditi, Graduate
"You should take this class because it makes you more confident about talking in public."  Sophia, Two Time Graduate of the Level One Course! 
"As a parent I thank you heartfelt for the wonderful job you have done with this class.  What a big difference from day one to now winning a contest.  I hope there are more kids who will be inspired by your students' success and get involved with the classes you offer.  It is such a pleasure to know you."  Andrea Sun
"The Academy for Public Speaking class is a wonderful experience.  You get the chance to meet new people and acquire leadership skills by being the President.  You also get to drastically improve your speaking skills.  I had a lot of fun in this class and recommend it to everyone."  Megha, Graduate
"After Evan attended classes at the Academy for Public Speaking, he improved his public speaking skills. Now he speaks loudly with confidence and proper gestures." Chun Luo
"The Academy for Public Speaking by Kathleen is wonderful. She worked with my son on public speaking skills. Ryan changed after finishing the level one course. I want him to go to the advanced level because this skill is very useful for now and Ryan's future." Ali Hami
"The Academy for Public Speaking has really helped me feel comfortable talking in front of people.  It's a great feeling!"  Samantha, Graduate
"The Academy for Public Speaking level one class is a great, fast-paced course.  It's perfect for people who want to improve their speeches."  Frances, Graduate
"Overall the course was an amazing experience because I learned the essential skills of public speaking, which helped me not only in the Academy for Public Speaking class, but also in school as well."  Natalie, Graduate
"The Academy for Public Speaking helps get rid of public speaking fears."  Cole, Graduate
"I loved this course because it taught me how to make a well developed speech and build on it. Others may have liked it in order to get rid of their stage fright. I also liked meeting and becoming friends with all the people in the class."  Priya, Graduate
"The Academy for Public Speaking course was a very good class.  By taking this class I learned how to give speeches, speak in front of many people, evaluate speakers, and present myself, which gives a first impression.  Originally I was extremely scared about giving speeches or presentations, but after taking this class I don't feel very scared.  This class was very helpful."  Aathmika, Graduate 
"The Academy for Public Speaking class was a lot of fun!  We learned a lot about presenting in front of crowds and projecting our thoughts.  Each week we had a different, interesting assignment to complete.  I definitely learned a lot."  Charu, Graduate   
"Kathleen led the Toastmasters International's Youth Leadership Program with such dedication that I've learned as much from her as other student participants.  Her former teaching experience and Toastmasters skills make her the perfect communication coach for teenagers."  Jimmy Thai, Co-Teacher & Semi  Finalist, 2010 Toastmasters International World Championship of Public Speaking 
"I liked that I could give a speech and be given feedback.  I liked how we did Table Topics, evaluations, the speeches, and the classroom enthusiasm/environment.  It was fun, helpful, and teaches you a lot."  Keshav, Graduate 
"I liked the Ah/Um Counter.  It was very helpful and it's fun to catch other people.  This was actually a pretty interesting class.  Giving speeches became easier for me.  People will learn a lot in this class."  Danielle, Graduate 
"My daughter and I really enjoyed watching Kathleen's Youth Leadership Toastmasters meeting in action. All the participants knew their role and, under the guidance of Kathleen, really provided a supportive and encouraging environment for public speaking. The kids were actually having fun while learning those valuable skills." Mojgan, Parent
"Taking this Teen Toastmasters course was a new experience for my teenagers Rachel & Vincent.  From overheard conversations between themselves, Rachel & Vincent have at the very least, been made more aware of the unnamed ums and likes sprinkled throughout their speeches.
Preparing for their respective speeches also forced them to be more organized with their thoughts and presentation.  From watching their peers present their speeches, Rachel & Vincent have learned the manner in which one delivers his speech can affect his image and self-confidence in front of an audience.
Since all teens will become adults and must work one day, they might as well take advantage of this great opportunity to polish up on public speaking skills, and maybe one day impress their potential employers.
My heartfelt appreciation for the dedication of both wonderful and engaging teachers Kathleen and Jimmy." DC Tran, Parent
"Conquering the fear of public speaking and effective communication are important skills for any human being, regardless of what we do in life. Kathleen's Academy for Public Speaking courses help our teens and pre-teens gain these key skills. However, what makes the courses so remarkable, is not only the skills they learn–it's the teacher herself. (Please note the Academy for Public Speaking now has multiple instructors.)
Kathleen Petrone is very committed and dedicated to these kids. She pours her heart and soul into the course. Kathleen really helps make each student attain their full potential.
First, she communicates well. Parents are kept informed of what happens in each class, what is expected of each kid, topics covered, roles given etc…
Next, she makes herself available. She offers her time and encouragement to her students. For example, my daughter, after completing the course, was in a speech contest–Kathleen was willing to go over her speech with her and give her pointers. This was on her own free time!
Third, Kathleen arranges for Toastmasters guest speakers and really works to improve her courses with each session. She asks for feedback and incorporates it into future courses.
Last, but not least–the graduation. Kathleen goes all out in making the students feel honored and special. The kids get beautiful certificates, engraved medals, and a chance to display their speeches to their parents. Plus–the winner of the speech contest wins a donation to the charity of their choice! What a great idea!
I plan to have my kids take more classes from the Academy for Public Speaking! I hope more of my friends do the same!"
Bhuvana Ramanathan M.D.